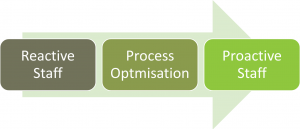 "We've always done it like that" is the most dangerous phrase in a business.
The needs of an efficient and productive business will change over time, which means your business process often needs to adapt and change too. Otherwise processes that once used to help the business now become a road-block to effective operation.
Our Business Process Review and Refresh service is designed to help you efficiently and successfully deliver process optimisation within your business, particularly if you're about to go through or have just been through a period of organisational change.
We start by focusing on understanding your Current Business State, including financial, technological and operational aspects, as well as your short and long-term business vision and strategy.
Our next step is to analyse the information gathered and transform it into your Future State Process, the output of which is either a step-by-step Future State Process document, a Recommendations Report highlighting your change and solutions options, or both. We can also provide an Executive high-level presentation if needed.
When you're ready for process change we can help you to successfully implement it, working on site with your team. We can assist with your internal project management, manage your vendors, or become a hands-on part of your project team.
Finally, it's important for us to ensure that the solution we have provided fills your business needs. After a nominated period of time, we can return for a change review in order to solve any potential issues and assist you to incorporate user feedback. In this way, we know and you know that we have delivered a valued, lasting solution to your business.
Book in with us for a Process Mapping Workshop by clicking here.