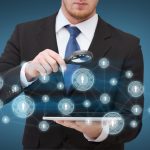 People spend up to eighteen hours online per day, whether it's through the internet, smartphone/tablet apps, or email. Recent studies have shown that smart device usage is gradually surpassing desktop usage. Our use of and relationship to technology is rapidly changing to the point where most consumers now automatically expect that businesses are "App-ready" or "web-ready".
We build bespoke, business-specific Apps that help you make the most of the changing technology environment and extend your brand visibility. Your App may need to be consumer-focused, or fill an internal process need – either way, we can help you design, deliver and deploy a bespoke App aimed at decreasing internal costs and increasing customer satisfaction.
You don't need to give us all the answers, just your business needs. We'll help you to transform them into a cutting edge App that marks you as a market leader.
And if the thought of design and build seems too hard? We'll locate the right generic App, or set of Apps for your business.
Our Mobile Apps and Web Services team can also fill your web integration and SEO optimisation needs, as well as set you up with social media automation.

We work with .NET, php, mySQL, Java, iOS, Android, Html5 and other web and database technologies, with over twenty years experience in Research and Development.
Contact us to book a session with one of our App Services specialists by clicking here.