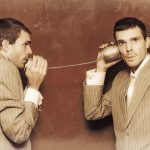 IT vendors and business often speak different languages. When a business has an issue, they tend to speak in functional business terms. IT vendors tend to speak technically, or in software solution terms. Both sides gravitate to what they know.
This can mean that conversations with your vendor can be frustrating for both sides, seem counter-productive, or never actually reach a satisfactory result.
We work as the translators between the two sides. We can help your business to phrase questions in a way that vendors can understand, as well as helping you to understand the response. Similarly, we can help your vendors to understand what the business request means in terms of software. We cut through all the buzz-words and tech-speaks, help you to understand confusing quotes and give you a clear understanding of what you are or aren't being provided with.
The result? A happy, productive partnership between you and your vendor.
Once communication channels have been cleared, we can help you manage your vendor performance. Your IT vendors should function as though they are an extension of your business resources and like all organisational resources, better performance can be achieved with a level of management. We can assist your business with implementing vendor SLAs, performance reviews and risk management/control, helping you to further develop a strong, strategic relationship.
If'd like a Vendor Health Check or ongoing Vendor assistance, click here to talk to us.