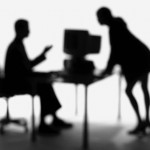 Business System Alchemy's founders are Michael Meryment and Ruxana D'Vine. Michael and Ruxana are both experienced in IT Consulting and developed their high-impact delivery method while working together in a multi-national Construction and Services company, from its birth to its untimely demise.
Michael started his professional life as a Chartered Accountant, before then working for a Consultancy business providing IT evaluations and implementations to medium to large businesses. He then created his own IT Consultancy business, where he focused on New Technology project roll-outs, such as fixed voice, data and mobile vendor assessment and selection; IP data and voice roll-out nationwide; business continuity and disaster recovery plan development and IT systems management. This then led to a role as a Business Integration Specialist at a multi-national Construction and Services company, where he worked on IT integration of Mergers and Acquisitions, which included process analysis and reengineering; software implementations; telecoms roll-outs and process change management. Michael's primary focus is Technical and Financial. He has a strong interest in efficient application of new technologies.
Ruxana first encountered IT systems when using Pronto-Xi ERP as a Service Coordinator and Administrator at a lock-smithing company, where she was involved in driving the system to meet operational needs. After this, she worked for several years at Pronto Software Ltd as a Senior Business Analyst, focusing on ERP implementation and process assistance for Service and Construction businesses, as well as Negotiation and Change Management consulting. The idea of being involved with a multi-national Construction and Services company from its early stages proved too enticing and she moved into a role as a Business Integration Specialist, working with Michael as the front-line team for the integration of Mergers and Acquisitions. Initially, she worked with the business as an ERP Project Manager and business process review specialist, performing process analysis and re-engineering; software implementations; and process change management. Over time, her role changed to focus specifically on development of new business systems and processes, helping the Operational side of the business drive more value from ERP. This included roll out of non-ERP systems, process map documentation, program operational and technical specification and program design. Ruxana's primary focus is Operational. She is a member of the Australian Institute of Project Management and the global Association of Change Management Professionals.